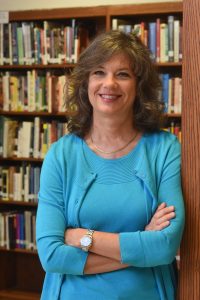 If you were meeting Anna Olliff for the first time, you'd see an attractive, physically fit young woman. You'd soon find out that she has been married for 27 years, is a mother of three and works as a media specialist at Evans High School. It wouldn't surprise you to learn that she enjoys activities like reading, gardening, walking and kayaking.
But what you can't tell as easily is that Olliff's grandfather died of a heart attack at 43. Her mother suffered a heart attack in her early 60s and underwent triple bypass surgery 12 years later, as did her uncle. More recently, her younger brother underwent triple bypass surgery in May 2015.
While Olliff doesn't match the profile for what most of us think heart disease looks like and she didn't experience any symptoms of a heart condition, she did know one thing: "If this can happen to him, then it certainly can happen to me."
Following up on a hunch
While she has been taking cholesterol-lowering medication since her early 30s, despite her good health, it was this thought that motivated her to see her doctor. He referred her to another doctor, who introduced her to a cholesterol-lowering medication, which was expensive and required a very restrictive diet. Olliff's concerns led her to Dr. Neal Weintraub, interim chief of the Division of Cardiology at Augusta University Heart and Cardiovascular Services, for a second opinion.
"Mrs. Olliff's symptoms were rather subtle," Weintraub said. "She did not have severe chest pain or other alarming symptoms that otherwise suggested a serious heart problem, which is all too often the case in women. However, she was keenly aware of her strong family history of high cholesterol and heart disease. Fortunately, she listened to her body and recognized that something was wrong."
Due to the severity of Olliff's blood test results, Weintraub prescribed a combination of medications followed by more testing, which showed improvement. However, he conducted a stress echo study, which led to a cardiac CT scan. To Weintraub's surprise, this showed a severe buildup of calcium salts in her coronary arteries, despite her young age, and identified several potential blockages. Cardiac catheterization confirmed the presence of several blocked arteries, which led to bypass surgery.
Expert care leads to a positive outcome
Just days before Christmas, Olliff found herself in the shoes of her father, mother, uncle and brother: preparing to undergo bypass surgery, a very serious procedure — but one that could save her life.
"She came in healthy and well-prepared for surgery," Weintraub said.
Since her surgery, Olliff has focused on eating clean and taking her medication to keep the cholesterol from building up. She is back to gardening and walking, and she gradually worked up to walking the 3.5-mile route she walked before her surgery. She is planning to participate in activities that require use of her chest, like kayaking and playing tennis.
"When she strolled into the clinic a couple of weeks later, none of the staff could believe that she had just undergone heart surgery," Weintraub exclaimed. "Since that time, she has never looked back, only forward."