While research looks to understand why high blood pressure happens, physicians like Dr. John White are working to manage these patients on an individual basis
Hypertension, or high blood pressure, affects one out of every three American adults over the age of 18, and for about half of these, the blood pressure is uncontrolled.
Still, the reason it's called a silent killer is because those who are affected don't necessarily feel symptoms, unless blood pressure pushes to dangerous levels.
Hannah Massey lived on that edge for about five years.
And it all started when she was just 18 years old.
'No big deal'
"My mom had high blood pressure, and her father had high blood pressure," said Massey, a native of Lexington, South Carolina. "It was just one of those things they went to the doctor for. It runs in the family. My grandfather had been on blood pressure medicine since he was 22, and my mom had been on medicine since she was 35 years old, and it was controlled all that time."
So when the high school senior and active cheerleader went in for her pre-school year physical, and the doctor said, "It's a little high." She didn't think much about it. "It was just, 'You have high blood pressure'"—no big deal."
During college at the University of South Carolina at Columbia, her primary care physician began putting her on this medication, then that, in the search to find one that would control her still erratic pressure levels.
"I've probably been on more medicines than a 50-year-old," Massey said.
Still she wasn't worried—yet.
After graduation, Massey moved to Augusta and started working at The Dental College of Georgia at Augusta University. Surrounded by medical knowledge, with easy access to technology and other resources—and feeling the increasing stress of a busy work environment—Massey began to take more notice of her own health.
A blood pressure cuff was right there in the office, so she started checking her pressure regularly—and she didn't like what she read. The numbers could be staggering—"just through the roof"—at one point, up to 180/120. And she started feeling terrible—heat rising in her face and ears plus headaches that would come on in the early afternoon, like clockwork. Most days, she just wanted to leave work, go home and crash.
She was 22 years old.
A closer look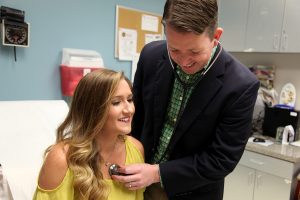 Dr. John White, a nephrologist at Augusta University Health's hypertension clinic, points to the waiting room: "I see a lot of young people," he said.
Many high blood pressure cases can be successfully managed by daily medication under the care of a primary care physician. However, many have blood pressures that spiral out of control—even on medication.
"Not every patient fits an algorithm," White said. "When something's out of control, it sometimes helps to have a specialist who can focus on that one thing, which is often difficult in a primary care setting. We're able to do that here."
About 95 percent of patients have what is known as essential hypertension, where the underlying cause cannot be identified. But we know that several factors can play a role in its development, from salt sensitivity and genetics to aging and lifestyle factors such as smoking or being overweight. A high dietary intake of salt (sodium) in particular is associated with the development of hypertension.
"Reduction in dietary salt lowers blood pressure in individuals with hypertension and enhances the blood pressure response to antihypertensive therapies," White said. "The extent of salt sensitivity is greater in blacks, older adults, diabetics and persons with chronic kidney disease."
White has also worked with Dr. Gregory Harshfield, director of the Medical College of Georgia at Augusta University's (MCG) Georgia Prevention Institute—a pioneer in the science of the impaired ability to excrete sodium following stress—on a project examining the role of stress in high blood pressure. But everything that we don't know about hypertension is what keeps clinicians and scientists up at night.
"There are many, many factors in play," White said. "But one of the things we do is try to identify a reason for uncontrolled hypertension, look for reversible causes, treat those and ultimately individualize medications accordingly."
Patients for whom lifestyle changes and medications aren't reining in high pressures require a closer look from doctors like White, who works alongside cardiologists Dr. Vincent Robinson and Dr. John Thornton. Once they are seen, many of these patients have identifiable contributing causes for their uncontrolled blood pressure. For example, this uncontrolled hypertension is often how patients learn that they have underlying chronic kidney disease. Renal arterial disease, atherosclerosis, obstructive sleep apnea, and hyperaldosteronism or overproduction of the adrenal gland are other common causes of secondary hypertension, which is simply defined as high blood pressure where a cause can actually be identified.
For these cases, the solution can be as straightforward as an interventional procedure to widen narrow arteries. But much of what White does is adjust medications.
"There's resistant hypertension," he said, "and then there's pseudo-resistant hypertension"—the result of patients who don't adhere to prescribed medications due to poor tolerability or uncomfortable side effects. Sexual dysfunction, fatigue, dizziness, swelling or just the nonspecific—"I just don't like the way it makes me feel"—are among the most common. Another issue is the wrong combination of medications, which antagonize rather than have synergy with one another.
"There are literally hundreds of blood pressure medications," White said. "So a lot of treatment is trying different combinations and practicing medicine, literally."
The sweetest sound
In 2015, Massey learned about the hypertension clinic through a co-worker whose mother had received treatment there. She self-referred and met with White. Although Massey had struggled with her blood pressure for about five years, White was able to diagnose her in just about five minutes: "When we see young women who are hypertensive, a primary concern is the possibility of an underlying disease called fibromuscular dysplasia. Fibromuscular dysplasia is a disorder of the blood vessels and often involves the arteries to the kidneys, resulting in severe hypertension."
On a physical exam, White heard the telltale bruit—a murmur that signaled a turbulent flow and stenosis emanating from her right renal artery.
For Massey, the sound was sweet.
"It was a real relief," she said.
Massey underwent an angiogram and percutaneous angioplasty of the lesion with interventional cardiologist Dr. Vishal Arora. The procedure was immediately successful.
For White, who grew up in Dalton, Georgia, and came to MCG after graduating from the University of Georgia, cases like Massey's are exactly why he chose nephrology. His original interest in internal medicine changed during his residency at the University of Tennessee at Chattanooga: "After the first six months of residency, I realized I was not interested in doing a lot of wellness medicine, but was drawn to sicker patients who really needed a doctor."
Today, Massey works as a dental assistant back in her hometown of Lexington, South Carolina. She continues to take minimal blood pressure medicine. Because chronic hypertension like hers can cause small vessel damage, it's likely she will need to remain on this low-dose blood pressure medication, but she's fine with that.
"I'm very thankful," she said. "And here I am today."
The area's only clinic dedicated to the medical management of high blood pressure
About 1 in 4 Americans struggles with high blood pressure, or hypertension—a leading risk for heart disease and stroke. To request a same-day appointment, call 706-721-2426.