AU Health's AirCare 1 clinicians participated in the SHIFT AMTC 2021 Clinical Challenge while attending the Air Medical Transport Conference (AMTC), one of the largest air medical conferences in the world.

Held in Fort Worth, Texas, the annual SHIFT AMTC provides opportunities for administrators, clinicians, communicators, pilots and mechanics to learn about the latest key issues and trends affecting the emergency medical transport energy. The conference's Clinical Challenge consists of scenarios in which teams of two respond to challenging situations that test clinical knowledge, critical thinking skills, teamwork communication, and situational awareness.
AirCare 1 crew members Michael Bisnett and Jason Herman earned First Place in the Clinical Challenge scene flight track. Bisnett, flight paramedic, and Herman, flight nurse, participated in the scene flight track against 25 other teams. Prior to the main event, teams were met with a 40-question written test and a challenging pediatric scene/call scenario. Teams were ranked according to a combined score from the written test and the clinical scenario. Only the top three teams moved on to complete in the final scenario.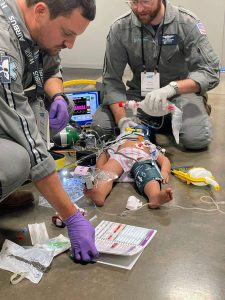 Bisnett and Herman were also met with an adult trauma scenario, which they completed in the first 15 minutes of the allotted 25.

Following their victory, the AirCare members received iPad Pros, two full registrations to the 2022 Air Medical Transport Conference, and a one-year subscription to iSimulate REALTI simulation software. They plan to use these prizes to develop the AirCare team's clinical knowledge by developing critical care transport scenarios using the software and the high-fidelity manikins. Along with the prizes, the winning team also plans to compete again next year, which will continue to grow the program's recognition.

AirCare is a partnership between AU Health and Metro Aviation to provide rapid transport with the highly trained and dedicated clinical crew, who will be available for scene response and interfacility transport to the region's only Level 1 Trauma Center. The AirCare program is new to AU Health and it is the only hospital-owned air ambulance in the region. It provides more Georgia residents with access to lifesaving specialty care and rapid transport, and improves access to the Children's Hospital of Georgia for children and infants across the state.