The Department of Neurology at the Medical College of Georgia consists of a collaborative team of physicians, researchers, advanced practice providers, nurses, technologists and clerical staff who serve the population of the CSRA and beyond to offer the highest level of Neurologic care. Core departmental programs include the state's first Comprehensive Stroke Center, a 27-spoke teleneurology network, a Parkinson's Foundation Center of Excellence, a Level IV Accreditation from the National Association of Epilepsy Centers, an ALS Association Certified Treatment Center of Excellence, and a National MS Society Center for Comprehensive Care.
Meet Our Staff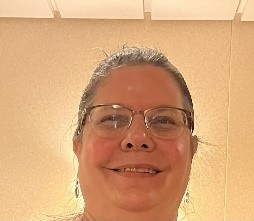 Rhonda Foreman
My name is Rhonda Foreman. I am the Office Specialist to Neurology residents Dr. Elizabeth Rutkowski and Dr. Thomas Swift. I have been working at Augusta University for a little over two years. I have one daughter who just turned 24 years old a few months ago, whom I am very proud of. I enjoy bowling, going to auctions, crafts, sunflowers, birdwatching and trying different things to relax and reduce stress.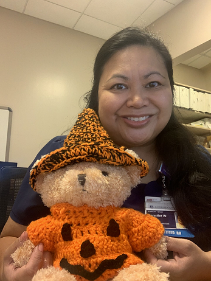 Jennifer Wilson
I have been an Adult Epilepsy Nurse for a little over two years. Prior to working in the epilepsy department, I worked as a charge nurse at 3North for over 12 years. I truly enjoy working with the Neurology department and have learned so much from my providers and colleagues. I appreciate all the hard work in improving patients' lives and health. Outside of work, I like to spend time with my husband, my daughter, and our furbaby. A little-known fact about me is that I like to crochet.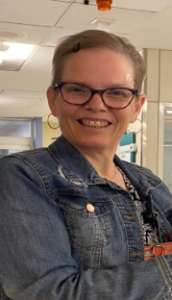 Kimberley Bennet
I am the Administrative Assistant for the EEG/EMU department. I have been in this position for almost two years (November), and I absolutely love my job and the people that I work with! I am married to the most amazing husband (Marcus), and I have three beautiful and amazing children (Zack, Holley and Carter). I am also a mommy to eight miniature weenie dogs who occupy all of my time when I am not at work. I am truly honored to be nominated for the SHINE award, and I pledge to do my very best for my co-workers and all of the patients I have the pleasure to serve.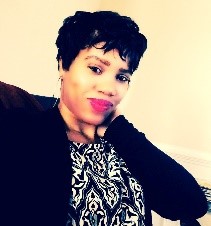 Robin Brooks
My name is Robin Brooks. I am a Registered EEG Technologist. I have worked in neurodiagnostic for almost four years now. I am the mother of a 12-year-old daughter. When I am not working, I enjoy taking trips out of town with my daughter.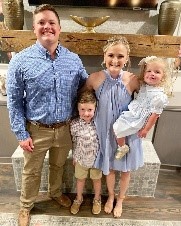 Luke Fisher
My name is Luke Fisher. I'm a staff nurse, as well as a stroke resource nurse for the Neuro ICU. I have been working on the Neuro ICU since July 2019. Prior to starting my nursing career here, I graduated with my BSN from Augusta University. I am the youngest of six kids in my family. Growing up with three older sisters and two older brothers, I received a lot of parenting and advice as I got older. This October my wife, Chloe, and I will have been married for eight years! Chloe and I have three children. John Luke, 8, is the oldest. My girls are Lizzie, 3, and Annie, 6 months. My family is a cornerstone in my life, and I have a blast being with them! Other than spending time with my kids and wife, I enjoy spending time with my siblings and parents, Peggy and John. We watch football games (Go Irish!), and we have dinner together almost every Sunday night. I like to spend time outside. I'm not sure if you'd call what I'm doing 'playing golf,' but I like to swing the club around when I get the opportunity.
I have been truly blessed to have such a great family. They have supported me throughout my entire life, and they are owed every bit of recognition for any type of success or achievement I've been lucky to receive.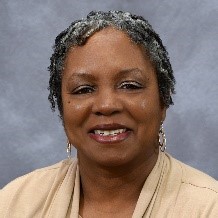 Loreen Ingram
I've been working in the Neurology Department for 22 years. I moved from Philadelphia, Pa., to Aiken, S.C., in June 2001.  I started out in Neurology, EMG Lab in September 2001 as a receptionist/medical transcriptionist.  Then in 2002, I was trained to become a Nerve Conduction Study Technologist and have been doing this now for 20 years.  This has been a very interesting career for me with its many challenges and changes over the years.  I have two sisters, my mother, Mary Ingram, and one son, Sean Ingram-Crews. I like the summertime—the warm weather. I like outings with family and friends.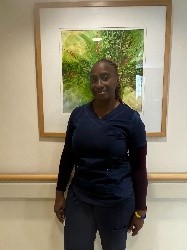 Mursherill Ogletree
Mursherill Ogletree is a Registered Nurse and Charge Nurse at Wellstar/MCG with 39 years of experience working at Augusta University and Medical College of Georgia. She served as a Licensed Practical Nurse while pursuing her BSN at MCG. Mursherill enjoys exercising and spending time with her two sons as personal trainers at their gym called The Jungle. She also enjoys spending time with her extended family and mentoring young adults.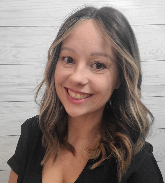 Brittany Hooker
What an honor to be recognized for the SHINE award! I am so grateful for this opportunity. My name is Brittany Hooker, I am a Sr. LPN in the Neurology Department and have been working with this wonderful group for almost five years. I have a loving and supportive boyfriend of nine years. I am a bonus mom to two kids and a dog mom to my yellow lab, Georgia. When I'm not working, I enjoy spending time with my family and traveling. I am actively pursuing my RN and will be finished with my degree in December 2023. I am so excited to expand my career and continue playing a vital role within this institution.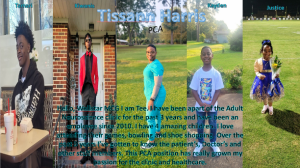 Tissann Harris
I am Tee. I have been a part of the Adult Neuroscience clinic for the past three years and an employee since 2010. I have four amazing children. I love attending their games, bowling, and shoe shopping. Over the past three years, I've gotten to know the patients, doctors, and other staff members. This PCA position has really grown my passion for the clinic and healthcare.

Donna Kolb
My name is Donna Kolb. I am currently a Senior Staff Nurse in the Epilepsy Monitoring Unit. I have been a nurse at WellStar MCG Health for 31 years. I graduated from Nursing School in 1991 at Hinds Community College- Nursing Allied Health in Jackson, Miss. I started my nursing career at Vicksburg Hospital in Vicksburg, Miss., working on a Med-Surge/ Pediatric floor. I worked there for a year before moving back home to North Augusta, S.C. and getting a job at WellStar MCG Health. Since working at WellStar MCG Health, I have worked Adult Med-Surge, MICU, and Epilepsy, where I have been for 20 years. While working in Epilepsy, I received the Spirit of Nursing Award in 2015. I am blessed with a job that is extremely rewarding, and I thank God every day for choosing this path and career for me. I love my unit, coworkers, and patients. On a personal note, I have been married for 36 years, and have two wonderful children and two beautiful grandbabies. When I am not at work, I love being outdoors, traveling, exploring new places and spending time with family and friends.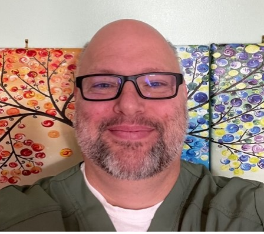 William Todd
I have worked at WellStar MCG Health (formerly AU Health) as a critical care nurse in the Neuro-ICU or as a nurse practitioner with the Neurocritical care team since 2006. I am proud to be one of the first advanced practice providers (APPs) to be part of the adult critical care community at Wellstar MCG Health. Being part of a multidisciplinary critical care team has been exciting and empowering.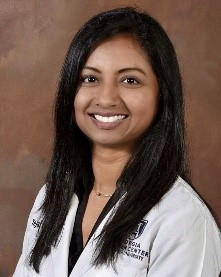 Tejal Patel
Tejal Patel, Physician Assistant. I have worked in the department of stroke neurology for about three years, and I have absolutely loved working with a very supportive group of leaders and staff. I am married, and we have two absolutely adorable girls. My hobbies include traveling, drawing, and spending time with my family.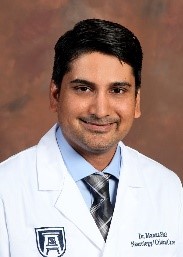 Manan Shah
Dr. Manan Shah is a practicing neurointensivist and an associate professor in the Department of Neurology. He is also an associate director of neurology residency program and director of Neuro ICU APP fellowship program. He joined the Department of Neurology in 2018 after completing his neurocritical care training at UT Houston. He lives in Martinez with his physician wife and two kids. He enjoys traveling during his free time and is also an avid cricket lover.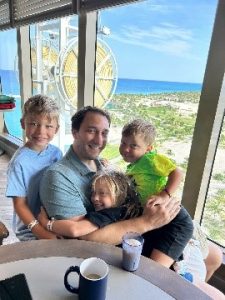 Colin McLeod
My wife and I are from Orlando, Fla., and as we spent eight years at the University of Florida, we became overt Gator fans. We enjoyed four years in Chicago for training but happily gravitated back down South. We are very excited to be in Augusta. We have three young children. Enjoying them and staying active occupies the bulk of my time when off MCG campus. We've been to Disney too many times.
I completed a two-year Fellowship in Movement Disorders following Neurology board certification, to specialize in the clinical care of patients with movement disorders. These include Parkinson's disease and Parkinsonism, Disabling Essential Tremor, Dystonia, Huntington's and others.
Fellowship training included an advanced Deep Brain Stimulation track, which is a particular clinical interest of mine. Botulinum toxin use for movement disorders, and advanced therapies for motor impairments in Parkinson's disease are additional clinical areas of interest. I am the Movement Disorders Fellowship Director and the Medical Director of the MCG Deep Brain Stimulation program.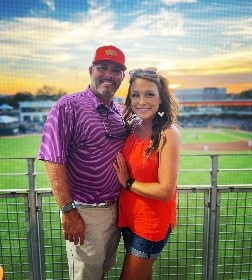 Tracie Morgan
Hey yall! I'm the Administrative Assistant 2 to the Chair of Neurology, Dr. Jeffrey Switzer. I've worked in this position for six years. I'm currently engaged and will marry my fiancé in December of this year. In my spare time I like to ride my horses, spend time with my family and friends, and watch college football. Go Tigers!
Denise McFerrin
I am the Neuroscience Lab Coordinator. I've spent 22 years in that position but started in the Department of Neurology in 1986. From 1986 to October 2001 I worked on the health sciences campus, and from 2001–present I worked in the hospital. My hobbies are cross-stitching and reading.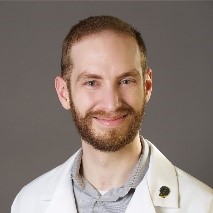 Brian Brown
My name is Brian, I'm a Neurology resident currently in my second year. When not at work, I enjoy watching movies, playing board games with friends, spending time with family, and, of course, sleeping.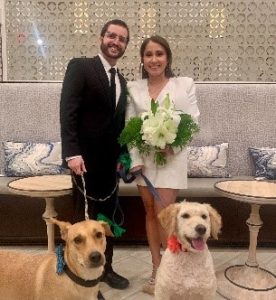 Axel Baez-Lugo
I am Axel Baez-Lugo, currently a PGY-4 Neurology Resident and Chief of Neurology. I am originally from Puerto Rico and will be doing a Pain Medicine Fellowship next year at USF-Morsani in Tampa, Fla. I spend most of my time with my amazing wife, Shalane, and our four-legged children, Ringo and Penny.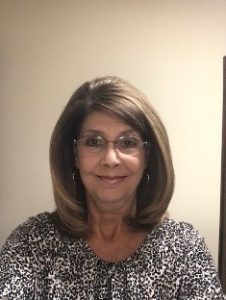 Debbie Langston
Hi, my name is Debbie Langston. I joined the Department of Neurology in 1999 as the Residency Coordinator, and I work with both Residency and Fellowships within the department. I am the proud mother of two children. Being Nana to four grandchildren and spending time with them is my very favorite thing in life and am so very blessed to have them. I also enjoy auctions and flea markets and slipping away to the beach any chance I get.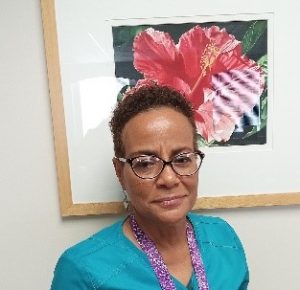 Julia Williams
Julia Williams is an Administrative Assistant who started working at MCG in 1993. She started out as a unit clerk and moved into an administrative position two years ago. Julia graduated from Augusta Technical College after earning an associate degree. She has several units she is responsible for, ordering supplies, maintaining payroll and other duties that are needed to keep each unit running smoothly. In her spare time, she enjoys working in the yard, painting, listening to music, movies, arts, and crafts.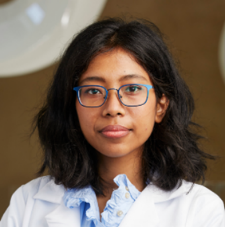 Rakchhya Shrestha
Rakchhya Shrestha, a PGY3 adult neurology resident currently in my second year in Augusta. I went to high school in Pennsylvania and completed my medical school in Nepal. When I'm not at the hospital, you can often find me sketching and exploring digital arts. I'm an avid follower of Formula 1, eagerly watching races, and absorbing the excitement of the world's premier motorsport. To unwind and stay active, I enjoy playing pickleball. I have also recently acquired a loving cat named Tucker.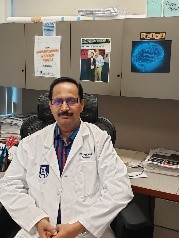 MB Khan
Dr. M B Khan (Mohammad Badruzzaman Khan or Mohammad B. Khan) is an Assistant Professor of the Department of Neurology and C0-Investigator and Co-Principal Investigator of multiple grants with Dr. David Hess, Dr. Askiel Bruno, and other collaborators at the Medical College of Georgia at Augusta University. He is an undergraduate research mentor for both BS and MD students in a research program. Dr. Khan is keenly involved in basic and clinical research for Stroke and vascular dementia. His research interest focuses on neurological brain diseases, especially Stroke, vascular cognitive impairment and dementia (VCID), post-stroke dementia, vascular dementia, cognitive impairment (Alzheimer's disease), post-traumatic brain injury (TBI) dementia, and other brain-related post-dementia diseases. Dr. Khan has a broad background in Stroke and cognitive impairment/dementia research for over 15 years. His long-term target is to develop an inexpensive and economically safe therapy for Stroke and VCID usable in all clinical settings. The main target of the study is to explore a therapeutic approach in pre-clinical and experimental stroke models as well as for "Age-related erythro-endocrine system" in VCID research, including the studies in cerebral blood flow (CBF) modulation by pharmacological intervention and Remote Ischemic Conditioning (RIC: Pre-, Per- and Post); RBC deformability, angiogenesis, arteriogenesis, endogenous neurovascular protection. His laboratory has notable expertise in animal models of stroke, vascular dementia, and other neurovascular diseases. He demonstrated that remote ischemic postconditioning (RIPostC) after bilateral carotid artery stenosis in mice (a mimic model of vascular dementia) improves CBF, protects white matter degeneration, and improves neurobehavioral outcomes with other histopathological changes. He is also currently studying and exploring the mechanism of neurovascular protection after chronic ischemia-RICPostC. Besides these projects, he is keenly involved in the stroke preclinical assessment network (SPAN), a multicenter stroke grant across the USA.
Dr. Khan is from India but has resided in Augusta for over 14 years. He loves to spend time with his family and friends, prefers to be outside engaged in outdoor activities and sports (soccer and badminton), traveling in natural places.
Dr. Khan earned his MS and doctoral degree from Hamdard University, New Delhi, India. He completed his postdoctoral training at the Medical College of Georgia at Augusta University. Outside the laboratory, Dr. Khan enjoys prioritizing time with his wife and 10-year-old son at home.