Maryann and Janice Hawkins know a little about overcoming obstacles.
The two biracial women have been a couple for the past 12 years, living in southeastern Georgia. They've faced many levels of discrimination, even from their own families.
But nothing was like the obstacle of not being able to have a child together.
The two were married unofficially in 2013, with a legal wedding in July 2014. That was just about the time when they began researching help for Maryann to become pregnant. But locating a sperm donor was the easy part.
Maryann had also suffered from severe endometriosis for most of her adult life. Endometriosis is a chronic progressive disorder in which tissue within the uterine lining grows and commonly envelops the ovaries, fallopian tubes and the pelvic area. The disorder had already caused her to lose one of her ovaries.
With no fertility specialists available in the rural area of Georgia where they lived, Maryann and Janice turned to Google.
"I started doing research online to find the closest fertility specialist to us and read their reviews," Maryann said. "Dr. Larisa Gavrilova-Jordan at Augusta University Reproductive Medicine and Infertility Associates was one of the first to pop up."
The couple took the three-hour drive to Augusta to meet Gavrilova-Jordan and felt a connection immediately.
"She is fantastic," said Maryann. "We hold dearly all what she says to us."
The couple had already determined that Janice would supply the eggs, while Maryann would carry the baby. With Gavrilova-Jordan's advice, they optimized their lifestyle and eating habits, and both quit smoking. They also underwent the extensive evaluation and teaching required for the complex treatment of in vitro fertilization with the use of donor sperm.
The couple also began to research donors via a sperm bank. They were able to find a donor with an ethnic mix similar to Maryann's, whose bloodline includes Native American, German, Norwegian and Jewish ancestries, and someone with her and Janice's blood type, A positive.
"Those were the parameters Janice and I cared about," Maryann said. "Some people also said that because I would be carrying the baby, it's possible the baby could look like me, but we definitely wanted someone who was my background. And if we had the same blood type, if something ever happened, we could help him."
Everything seemed to move quickly after that. Under Gavrilova-Jordan's care, both women started treatment on medications, with Janice receiving injections to prepare her body for egg retrieval, and Maryann taking hormonal therapies to prepare her uterus to receive the created embryos.
The egg retrieval procedure, embryo creation and embryo transfer were successful, and Maryann became pregnant on the first try. She continued with hormone treatment to protect the pregnancy during those early weeks before Gavrilova-Jordan released her to the care of her local OBGYN.
Jayson Hawkins was born healthy and full-term on March 7, 2016.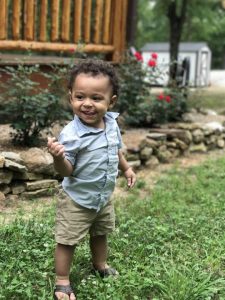 "He is just like Janice," Maryann said with a laugh. "He's got an attitude, he's got his own little personality. But when Dr. Gavrilova-Jordan saw him for the first time when he was almost one, she was floored by how much he looked like me. People are amazed by how much he does favor me."
During the process, the couple received another benefit: Gavrilova-Jordan made the discovery that Janice also had fibroids inside her uterine cavity and performed a fibroid removal, resolving her longstanding, painful heavy monthly bleedings.
"I would recommend Dr. Gavrilova-Jordan to anybody," Maryann added. "She knows what she's doing and she knows what she's talking about. She gets really connected with her patients. [When we visited recently], she hadn't seen us in a year, but when we walked in that door, she knew exactly who we were and called us by name. She has just been wonderful to us."
If you're experiencing infertility, there's hope
Augusta University Reproductive Medicine and Infertility Associates can help. Call us at 706-722-4434 or visit augustahealth.org/infertility.
To learn about our women's health services and providers, call us at 706-721-4959 or visit augustahealth.org/women.