It's not too unusual for a high school athlete to get injured, but it is for it to happen three times.
Evans High School student Caitlyn Burner, 17, has experienced this exact thing. Her right ACL (anterior cruciate ligament) was torn in 2018, and again in 2019. Then in 2020, the basketball player injured the ACL in her left leg. All three injuries required surgery.
"[My mother] actually told me after the second time that I wouldn't play anymore, but now I'm playing, of course," she said.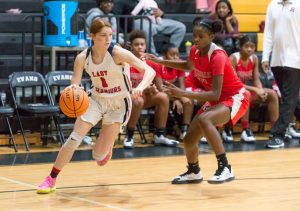 After the third injury and three surgeries at Dwight D. Eisenhower Army Medical Center, Burner went into rehabilitation with help from Augusta University Health orthopedic surgeon Robert Willson.
Once a week, she undergoes intense training at AU Health's West Wheeler clinic, including basketball drills to get back to full strength before she returns to the court for good.
Burner has been practicing with the team but hasn't played any games this season. She aims to rejoin competitive play for her upcoming senior year.
After earning a scholarship, Burner recently gave a verbal commitment to Bob Jones University in Greenville, South Carolina. Her potential and her basketball career are just beginning, with help from AU Health to get her back on the court.