Curtis Lambert knows numbers.
The California native has been all over the country – and the world – working in intelligence and cybersecurity, which he picked up when he joined the military. From Afghanistan to Maryland and back to Augusta, his work has consisted of the upmost importance with the most detail-oriented data.
One number sticks out more than others when he tells his story. Its one doctors told him repeatedly at Augusta University Health in August, and one he said he still really can't believe.
"They told me the odds of sudden cardiac arrest being less than 1% chance of survival. I'm a data guy, so you tell me something like that I know what it means," said Lambert. "I almost fell into the chair behind me when they said that."
It started as a normal evening for the Lamberts. He, his wife, Sarah, and two of their three kids went out on an evening walk around their subdivision. Sarah and their oldest, Owen, went out ahead of the pack to race to the nearest mailbox. Owen ended up winning so they raced again. They went section by section, teasing each other until they had enough and were ready to head back.
Curtis eventually caught up to the two and just as he was ready to turn back, he saw what he called Sarah 'gracefully go down'.
"I'm jogging up and my oldest says 'Stop messing around mom, it's not funny'," said Lambert. "I got up there and she was looking blue and there was really labored breathing."
He called out to her, but she didn't respond. He checked her pulse. Nothing. Eventually, Sarah stopped breathing. Curtis, who is CPR certified for his job, started working on her, trying to bring her back.
"You know military evaluating, baseline training, medical training – they give you what to go through and all those steps kind of kick in," said Curtis.
Curtis would begin CPR while his kids blocked some nearby traffic and and a neighbor ran to call 911.
Meanwhile, a white truck pulls over. Curtis didn't know, but the person who sees this rushes to his phone to call his father. His father happens to be Columbia County Fire Rescue Assistant Chief Brent Willis, who lives right down the block.
After a couple rounds of CPR, Sarah starts to breathe, then suddenly she stops again. That's when Willis gets on scene with a defibrillator.
"He's setting up around me and it doesn't register –  like he's not some random dude in the neighborhood," said Curtis. "I hand her off to him. He immediately did a quick check of her pulse and hooked her up to the defibrillator."
Curtis said the rest of it felt like a blur. He's talking to 911 operators on the phone, watching a stranger try and keep his wife alive as EMTs show up.
Next thing he knows, she's in the back of an ambulance heading towards AU Health. He leaves his kids with a neighbor and heads towards the hospital. Finally able to get into the ER he's told his wife is alive. She's intubated for her safety. Doctors say at one point she was even starting to giggle.
As doctors are explaining what's happening, that's when his wife's situation and her near-death experience hit Curtis.
"I literally dropped on my knees on the floor at that point, I had to gather myself and then go back through the story with her."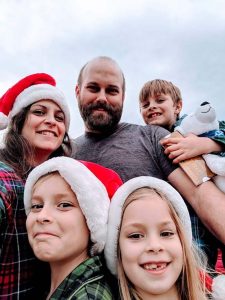 The Need for CPR
Not many people know this, but there's a ninth floor at AU Health's main hospital building.
It houses a few offices and labs. One of those offices belongs to Wayne Deas, the director of the American Heart Association Training Center at AU. The center oversees the AU network and spans all across Georgia and South Carolina teaching any kind of AHA training, including CPR.
The Center has nearly 450 instructors teaching around 54 thousand people a year. Deas' hope is even more will sign up.
"It's become more accessible too," said Deas. "We have more companies that teach it too whether that's the AHA or the Red Cross. Go in and get the training, it's important."
The American Heart Association shows CPR can double or triple the chances of survival of sudden cardiac arrest. A recent survey say most U.S. employees are not prepared for a cardiac emergency. The Association labeled cardiac arrest a public health crisis.
Statistics show survival to hospital discharge after EMS-treated out-of-hospital cardiac arrests (OHCA) as 9%. Couple that with good functional status and the percentage drops to 7% (percentage points can lower based on different factors. For example, most states in the South and Midwest have higher mortality rates.) It's why Deas and Lambert stress getting not only CPR certified, but doing high-quality CPR.
"High-quality CPR moves the oxygen, moves the blood," said Deas. "Pushing hard, pushing fast and allowing the chest to recoil. 30 compressions to 2 breaths, and then wait for a defibrillator. Electricity is the key."
Deas and instructors hold CPR certification classes twice a week at Augusta University, and offer hundreds more classes at its training site. He believes everyone should learn the basic of CPR.
"It's very important, especially for those who have family members at risk. We're talking about a risk situation, there are hundreds of thousands of people that go under cardiac arrest every year, and millions of people with cardiac issues," he said.
Recovery and Message
It didn't take long for Curtis Lambert to meet the whole cardiology team.
In fact, Curtis says he didn't even realize how it was possible there were so many doctors in one department.
"I didn't even realize how many subfields and specialties there were in cardiology. It was like the whole cardiology team," said Lambert. "They've got basically one of everything trying to figure out what happened."
After a few stressful days of monitoring, Sarah started to improve. She started in the ICU, with the initial worry about brain damage caused by the heart attack. Curtis says that was wiped away when she woke up a day after she was admitted in and asked what had happened to her. Slowly, doctors started removing tubes and weaning her off medication.
Eventually, doctors came up with a diagnosis of long QT syndrome. It's a disorder that affects the heart's rhythm and can be hard to diagnose. Doctors at AU Health are working with the Lamberts, completing some genetic testing and meeting monthly to nail down a diagnosis.
He said he appreciated everything AU Health was able to give his family during their most stressful moments.
"Everybody was great about communicating the severity of the situation, the importance of it, without any fear mongering," said Lambert. "Right away they said these are the next steps, these are the concerns and what we should we looking out for."
It's also why he's pushing for CPR training. Without it, he isn't sure his wife would be with him today.
"If you can't afford a class, watch a YouTube video, do something," said Lambert. "One of my neighbors, this triggered him to make sure he's going to get CPR certified hearing the difference it can make, I think that's the note that doesn't get hit enough."
Sarah is recovering at home. Curtis says she's at around 70%, and there's a lot of 'new normal' for their family. That's OK, he said.
He's also grateful for a lot: The CPR training he took years ago because someone in his office needed to be certified. The neighbor who helped him call 911, the driver who saw what was happening and called his father. The Fire Chief who showed up to help out with the right equipment, and the doctors who are working to help their family move on.
They've bounced back, are taking life day-by-day, and spreading their story to help the next family to whom this could happen.
"Just don't lose track of time and be grateful for what you have. It's very cliché but it can be taken away in a minute, it's not something you forget when you get that close," he said.