National Volunteer Appreciation Month occurs every April and is dedicated to highlighting the importance of service and those that make it possible. During 2022-2023 our AU Health volunteers have donated over 9000 hours and shown a true dedication towards serving others. We are proud to have so many compassionate members to join our volunteer family including Adults, Teens, and College students.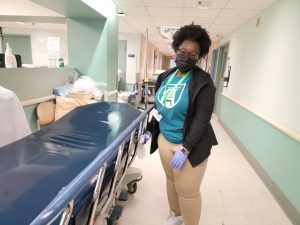 In honor of their outstanding efforts this past year, we will be hosting a series of appreciation events throughout the month of April. You can also show your appreciation by simply thanking a volunteer for their contribution the next time you spot one on campus. They love knowing that they make a difference!
There are multiple ways volunteers can support your department or unit.  Did you know that our volunteers provide assistance to over 20+ areas within our AU Health System? Their efforts help support our departments by assisting with anything that may be needed including just offering a friendly listening ear to patients during purposeful/hourly rounding, answering call lights, organizing materials, and assisting with labs. If you are interested in having volunteer support, please feel free to contact The Office of Volunteer Services and Community Engagement at 706-721-3596 or volunteers@augusta.edu. We would love to speak with you!
For those interested in volunteering at AU Health, The Office of Volunteer Services and Community Engagement offers volunteer positions across multiple areas including Healing Arts, Volunteer Liaisons, and much more!  Our AU Health volunteers are committed towards improving the lives of our patients, families, and staff. To learn more about our AU Health Programming, please visit our website augusta.edu/volunteers or contact volunteers@augusta.edu.
Here's where you can volunteer: Augusta University Medical Center, Art Play Studio, Healing Arts, AU Health VolunTeen, AU Health VolunJags, Children's Hospital of Georgia, Pet Therapy, The Georgia Cancer Center, Patient/Family Advisors, Spiritual Care