On Nov. 17, Scott Gay returned to the new Cardiovascular ICU at AU Health and thanked the staff that cared for him after his intensive heart surgery.
Seated in a wheelchair and clutching a heart-shaped pillow, Gay faced at least a half dozen of the unit's staff who had cared for him only two weeks before.
Gay was first patient in the new $13M, state-of-the-art CVICIU, which opened Nov. 1 – the day Gay had to have bypasses on six of his arteries.
It also happened to be his 24th wedding anniversary.
"He set us up in a fancy hotel," said his wife, Nancy Gay.
"I had to pull some strings to get a suite," Gay joked.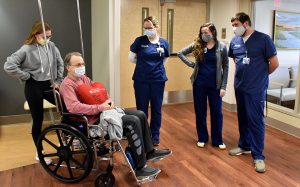 It wasn't a laughing matter at the time, though two weeks later he raved about the care he received.
Gay said prior to being admitted, he'd noticed he had very low energy. His primary care doctor sent him to Dr. Musa Sharkawi at AU Health, who administered a stress test. It should have taken an hour, but after only five minutes Sharkawi informed him he'd need bypasses.
The day before his scheduled surgery, Gay started having chest pains and went to the emergency room, where he was admitted to the CVICU.
"I was scared," Gay said. "I'm not lying. I was scared, but the staff was very gracious and understanding. I cannot speak enough about the volume of kindness and professionalism that took place during my admission and my stay here."
Gay said he has little memory of the days that follow, he does remember that his family was with him. Larger rooms that are comfortable for guests to stay for extended lengths of time was an important feature of the new unit. Additional features included the ability to constantly monitor patients throughout the unit, updated technology and comfortable break rooms for the staff.
"Having a facility like this with your family there, it does help the patient," Gay said. "I was just tired, I was tired of not sleeping. Having them there to boost my morale was incredible."
Dr. Vijay Patel, who performed the surgery, dropped by to check on him. Gay will see him again in a couple of weeks before he begins rehabilitation.
"We are glad he had a very successful outcome," Patel said.
"Thank you for some well-crafted hands," Gay told him.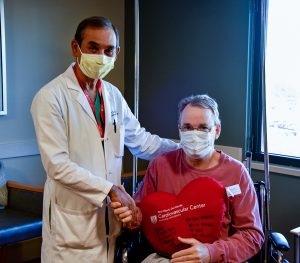 Gay said he's often been encouraged to try another local hospital but it never crossed his mind to go anywhere else.
"To be honest with you, I would much rather be over here. The care that I got here was just superb."
Nearly three weeks after his surgery, Gay is recovering well at home. His visit lifted the spirits of the staff as well.  Once a patient leaves the unit and goes to the main floor to recover, the staff rarely sees them again.
"He had a huge, huge surgery. You probably couldn't have gotten done much more than what they did," said Assistant Nurse Manager Bella Hickman.
"As nurses, it's really awesome to see you and hear you tell us about your experience. It helps remind us why we do what we do," she said to Gay.
The experience left an impression on Gay's daughter, as well. Currently in nursing school, Kaylen Gay said she was planning to become a labor and delivery nurse but now said she wants to work in the CVICU.
"You'd be surprised. That's the same story for all of us," Hickman said.